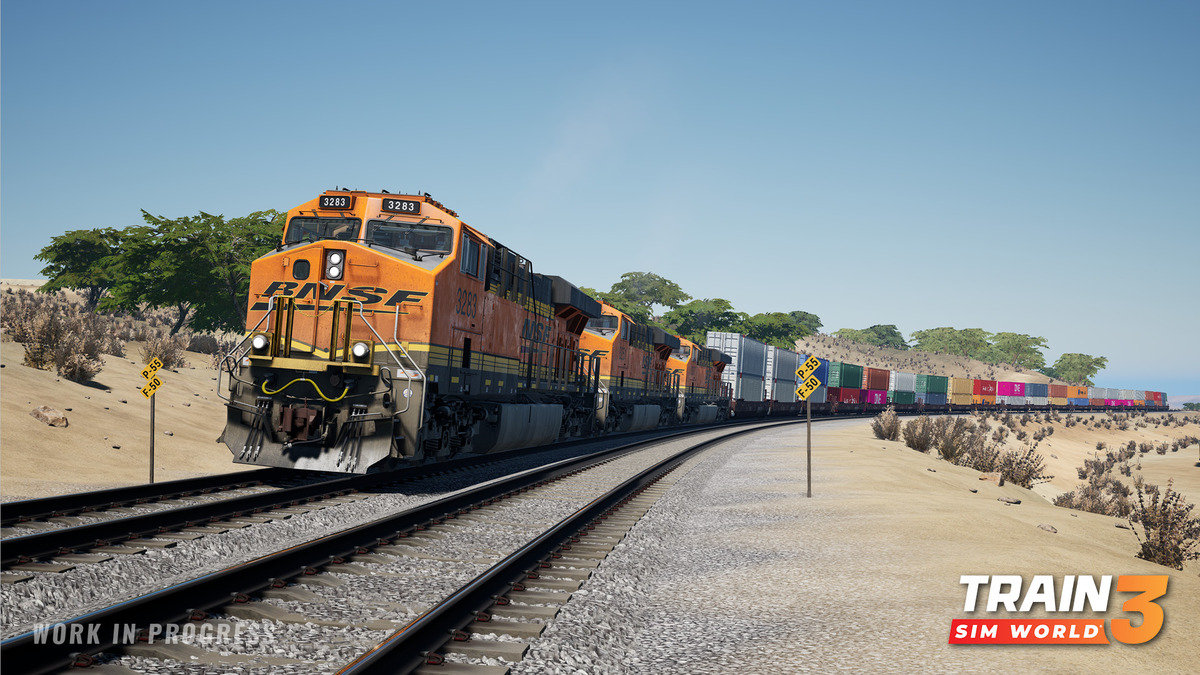 Train Sim World will be released on September 6th.
What is Train Sim World 3?
Train Sim World 3 is an immersive and highly detailed rail simulation and a brand-new entry in the Train Sim World series. It will offer 3 new routes, as well as a series of new features, including dynamic weather, improved lighting, the Training Center and much more, detailed below.
What routes and locos are included with Train Sim World 3 Standard Edition?
Schnellfahrstrecke Kassel - Würzburg Route Add-On
186 km (116-mile) high-speed route from Kassel to Wurzburg
DB BR 401 ICE 1 in DB ICE livery
DB BR 403 ICE 3 in DB ICE livery
DB BR 185.2 in DB Red livery
Kijls, Habbins, Laaers and Sggmrss wagons
DB BR 146.2, Dostos and DB BR 442 (AI Only)
Cajon Pass: Barstow - San Bernardino Route Add-On
85-mile (136 km) route from Barstow, California to San Bernardino, California
ES44C4 in BNSF livery
SD40-2 in BNSF livery
Autorack, Tank Car, Boxcar, Maxi Stack IV and Bulkhead Flat Car rolling stock
Southeastern Highspeed: London St Pancras – Ashford Intl & Faversham Route Add-On
89-mile (143 km) route from London St Pancras to Ashford Intl & Faversham, also including Dartford
BR Class 395 EMU in Southeastern Highspeed '10th Anniversary' & '#Trainbow' liveries
BR Class 375/9 EMU in Southeastern Dark Blue
BR Class 465/9 EMU in Southeastern Blue Stripe livery
BR Class 66 Diesel Locomotive in EWS livery
MFA and JNA Wagons
What new features will Train Sim World 3 have?
Dynamic weather changes conditions as you drive.
New visual effects for snow, lightning, volumetric clouds, and rain.
Weather will have a physical impact on your driving experience.
Passengers will change their clothing attire to suit the weather conditions.
Training Center – Take your trains for a test drive and learn more about locomotive operation and safety systems.
New lighting system including third-rail sparks and flashes from catenary.
Seasonal timetables will vary the volume and timing of services based on the season.
Journey Mode has been improved to give players a more meaningful experience.
A new, more intuitive user interface.
What other features are available in Train Sim World 3?
Train Sim World 3 will bring forward many of the features that have made the series so compelling in the past, including:
Scenario Planner (Create custom services. Mix & match locos and routes with "off the rails" mode.)
Livery Editor (Paint your locos with a wide range of shapes and decals)
Creators Club (Upload and share your creations across all platforms)
Dovetail Live (Mastery Challenges, Driver Logbook, Railfan Shots & Rewards)
Detailed physics simulation
When will Train Sim World 3 launch?
Train Sim World 3 will launch on the 6th of September 2022 on all platforms. However, pre-ordering the Standard or Deluxe Edition will provide you with early access, 4 days ahead of launch.
When will early access start for players who have pre-ordered?
Early access will begin at least 96 hours before launch on your chosen platform. However, it is likely that consoles will receive access before PC platforms, as is normal for new releases.
Can I upgrade from Train Sim World 2 to Train Sim World 3?
No, Train Sim World 3 is a new game which will be available for purchase separately.
Steam: https://store.steampowered.com…944790/Train_Sim_World_3/
PlayStation: https://store.playstation.com/en-gb/concept/10004889/
Xbox: https://www.microsoft.com/store/r/9pd05cmtghpb
Epic: https://store.epicgames.com/p/train-sim-world-3